Indians Football Scrimmage Tonight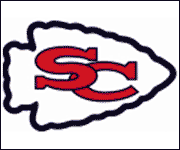 The Stephens County Indians will host the White County Warriors in a pre-season football scrimmage game tonight at The Reservation.  The Varsity squads will play the first three quarters, and the Junior Varsity teams will play the fourth quarter.  Admission will be $5 with kickoff tonight at 7:30.
Indians Head Coach Frank Barden said the scrimmage will be valuable to the coaches to see how the players perform in a game-type situation.  
"Probably more of a offense, defense, live game type situation," said Barden. "Kicking game will probably be dead ball, but you'll still put them out there and work on it. The extra points and field goals may be live but mainly just kind of get under the lights, get some kids on film and see what they can do."
After tonight's pre-season scrimmage game, the Indians will have two weeks to get ready for their season opener when they host Franklin County on Friday, August 25.
Coach Barden said he has enjoyed coaching this team and getting them ready for the season.
"Got a great group of kids," said Barden. "Their character and work ethic is just really good. It's a fun team to be around, fun team to coach. Finished up summer, went through our two a days last week and now we're in a game type week with the scrimmage coming up against White County, so it'll be a growing process. It'll be one where they learn to prepare for each week and get ready for that Friday night and look forward to getting out there on Friday night against White County."
WNEG will broadcast tonight's game with airtime at 7:15.