Three Indian Football Players Sign with Schools
Three Stephens County Indian football players signed letters of intent on national signing day on Wednesday.
Michael Seay , son of Clinton and Kathy Murray, signed with the Georgia Knights Prep Academy in Snellville, Georgia.  Michael played offensive lineman and lettered 4 years on the varsity, started his junior and senior years, and was a 2-time All-Region selection.  His goal is to become a pediatrician.
Michael says Indian Assistant Coach LaQuentin Taylor helped him get noticed by Georgia Knights Academy "They've been looking at me for probably 6 to 8 weeks now, and Coach Taylor went to a recruiting fair not too long ago.  He gave them all of my information, and they called me the next day and told me they wanted me."
.
Michael Seay
Victor Nicely,Jr., son of Victor Nicely, Sr. and Kongaydra Nicely, signed with Community Christian College in Atlanta. Victor played defensive line for the Indians and lettered 4 years, started 2 years, and was named to the All-Region defense last season. He plans to major in sports medicine. Victor says even though he was a defensive lineman, the coaches at Community Christian are looking to play him at fullback. "Going here—it's a JUCO College so it going to give me a chance to put myself at different positions that fit my size. They told me I would be going in as a fullback because I'm 5'8" 185 pounds."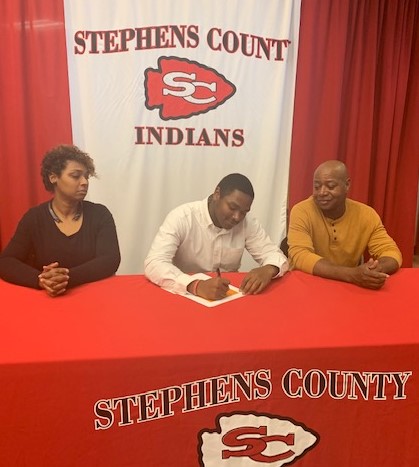 Victor Nicely, Jr.
Kamon Taylor, son of Lacorsha Burton and Emanjula Brown and Henry Taylor signed with Wingate University in Wingate, North Carolina. He played 4 years with the Indians, starting this past season at both safety and halfback, and was named All-Region last season as running back. Kamon talked about when he made the decision to commit to Wingate. "The offer to Wingate actually came pretty late in my recruiting. I got a lot of perspective from my visit, and from my parents and coaches."
Kamon says he plans to major in physical therapy & business.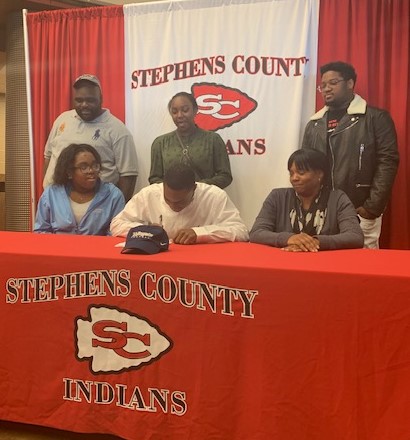 Kamon Taylor