Stephens County Baseball Holds End of Season Awards Night
The Stephens County High School Baseball team held their end of the season
awards banquet last week.
Making the Region 8-AAA All-Region Team were: Outfielder Colby Fowler (2nd
straight year) 3rd Baseman Ben Stowe (third straight year) and 2nd Baseman Dylan
White. Pitcher/Outfielder Garrett Pless was named Honorable Mention (with Coach Greg McCall below)
Nick Randall was named the Region 8-AAA Pitcher of the Year (Pictured above and below)
Randall was named the team's MVP (with Coach Greg McCall below)
The Best Offensive Player Award went to senior Ben Stowe (with Coach Greg McCall below)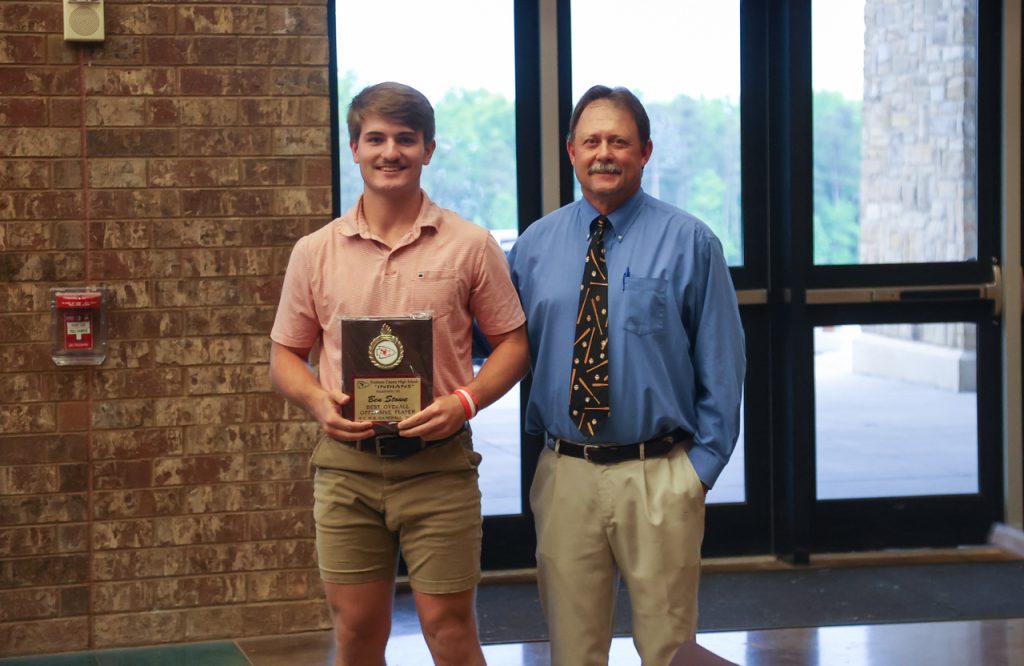 and the Best Defensive Player Award went to junior Colby Fowler (with Coach Greg McCall below)
Academic Awards were presented to Senior—Braden Holbrooks, Junior—Craig Thurmond, Sophomore—Jack Wilhoit, Freshman—Christian Hewitt. (pictured below)
2023 Region-8 3A All Region Team
Position Player of the Year
Dee Oliver – Shortstop – Franklin County
Pitcher of the Year
Nick Randall – Stephens County
All Region Pitchers
Daniel Barwick – Hebron Christian Academy
Duncan Beasley – Franklin County
Jake Hegwood – Monroe Area
Landon Kuykendall – Oconee County
Parker Marlatt – Hebron Christian Academy
Infielders
1st Baseman – Rylan Tamplin – Franklin County
2nd Baseman – Billy Lewis – Oconee County
3rd Baseman – Ben Stowe – Stephens County
Shortstop – Landon Tate – Oconee County
Sam Mitchell – Hebron Christian Academy
Logan Taylor – Oconee County
Dylan White – Stephens County
Morgan Wiles – Hebron Christian Academy
Catchers
Dylan Hamby – Monroe Area
Riley Posey – Hart County
Outfielders
Paul Davis – Hart County
Colby Fowler – Stephens County
Garrett Garner – Franklin County
Cole Johnson – Oconee County
Ty Peeples – Franklin County
Branson Perkins – Monroe Area
Kyle Strickland – Oconee County
Honorable Mention
Franklin County – Caden Cawthon, Ryder Emmons, Easton Gailey
Hart County – Kanyon Coulter, Zach Dombrowsky, Avery Strickland, Reece Maxwell
Hebron Christian Academy – Ryan Bruce, Demitri Watts
Oconee County – Carson Fuchs, Brooks Kilzi
Stephens County – Garrett Pless
***Photos provided by David Byargeon.