Sheriff Randy Shirley Looks Back on Successful 2018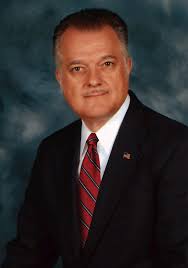 Stephens County Sheriff Randy Shirley says 2018 was good year for his department and a staff meeting is being held today to set new goals for 2019.
In an interview with WNEG News this week, the Sheriff pointed out several important accomplishments in his department last year.
The biggest area of concentration last year, he said, was in the area of crime and public safety.  Sheriff Shirley says overall crime numbers dipped in 2018.
"Our burglaries were down to 79. In 2017 we had 99 burglaries," he said. "This is the third year in a row that our burglaries went down. We had no homicides last year. The last homicide we had in Stephens County was in 2015."
Additionally, the Sheriff said his officers made almost 100 drug busts in 2018, taking down some known drug dealers separate from the Appalachian Drug Task Force.
Another goal in 2018 was to foster greater awareness for area businesses on what to do in the event of an active shooter incident.
The Sheriff said last year, his department instituted an active shooter training course, called CRASH.
"It's an acronym for Civilian Response to Active Shooters. We went to the Chamber and asked Julie Paysen to put it on the Chamber's website. To date, we have hosted seminars at six local businesses including, ASI, Oconee Federal, the Stephens County Housing Authority, TruVista, and GM Wood Products."
Shirley said they hope to expand the program this year to offer it to any interested citizens or group.
Another area where the Sheriff's department is working to keep the public safe is in court.
Sheriff Shirley said in 2018 they implemented phase two of their state-mandated court security initiative.
"Our phase two plan included installing adequate screening stations at both entrances in the New Government Building. We have been able to add two new magnatometers with x-ray machines. The old ones we had were worn out and were not catching a lot of knives that were getting through and some of the new firearms," he said.
The Sheriff said they also added more POST-certified deputies in 2018 to man the courtroom doors when court is in session.
And one other major accomplishment in 2018 for the Sheriff's Department, according to Shirley was better cooperation between the Sheriff's office and the Toccoa Police Department.
"Since Police Chief Jimmy Mize was appointed we have been able to begin weekly meetings between our investigators and their detectives. We have already seen some very, very good results. That's something I haven't seen since I became Sheriff. Chief Mize and I are really proud of that, and we have a great working relationship," Sheriff Shirley concluded.
A complete printed report of the Sheriff's Department's activities and accomplishments for 2018 is expected to be out in mid-February in magazine format and will be available free to the public.