Sheriff Focuses on Gang Issues at Statewide Sheriff Training Conference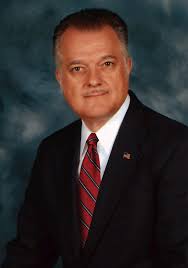 Stephens County Sheriff Randy Shirley recently returned from the Georgia Sheriff's Association's annual Summer Training Conference held at Lake Lanier Islands.
Just over a 100 sheriffs from around the state participated in the three-day event.
The sheriffs heard from a number of state level speakers including, Governor Brian Kemp, Georgia Lt. Governor Geoff Duncan, Georgia Secretary of State Brad Raffensperger, and Georgia Attorney General Chris Carr.
Also speaking at the seminar was U.S. Attorneys Bobby Christine, Charlie Peeler, and Byung J. Pak.
Among the multiple training sessions offered, the Sheriff says one was of particular interest to him.
"It was probably one of our best training conferences I've been to since I've been Sheriff," he said. "They realize the problem we're having here in Georgia – gangs. The new GBI Director was at the summer training conference. They have an awful lot of information that is beneficial. And the federal authorities have now joined in with Sheriff's in Georgia and are working more closely with us because they realize there's a problem."
The Sheriff said while there is no major gang operating in the County, there are those he calls, "gang wannabe's."
He says his Department has developed a special unit to deal with gang activity.
"We have trained sme of our jailers what to look for when folks come in to be booked," the Sheriff explained. "And when my Chief Deputy assumed oversight of the Criminal Investigations Division we began to separate (gang members) them out of the Criminal Investigations Division. That's something I can't go into here, but we realized the problem several years ago. When we finished separating out each of these 'wanna be' gang members, we called the GBI Gang TAsk Force Director, and to their surprise, what we had was very beneficial to them."
Other highlights of the conference included the installation of the 2019-2020 officers for the Georgia Sheriffs' Association and new officers installed for the Georgia Sheriffs' Youth Homes, Inc., which included Sheriff Shirley being elects as 1st Vice President.
The Georgia Sheriffs' Association, Inc. is comprised of 159 elected sheriffs with the support of over 70,000 honorary members throughout the state who recognize and appreciate the service of the constitutional Office of Sheriff and the Georgia Sheriffs' Youth Homes, Inc.