Rocker Leads Titans Past Indians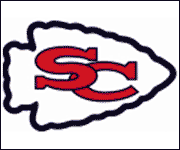 Major League Baseball prospect Kumar Rocker pitched six innings of shutout baseball and plated the first run of the game with a RBI single to lead North Oconee to a 3-0 win over Stephens County Monday night in Bogart.
Rocker allowed just two hits in the game and struck out twelve Indians while walking just two.
Rocker's two-out single in the third gave the Titans a 1-0 lead. The Titans also added two out runs in both the 4th and 5th innings.
Stephens County only threatened to score in the 2nd inning when they got their only hits of the game with singles by Bryson Fowler and Isiah Martin, but the runners were stranded at 2nd and 3rd base.
Gabe White took his first loss of the season to fall to 4-1, but pitched outstanding going 4 innings and allowing just 4 hits and one earned run while striking out nine.
With the loss, the Indians fall behind the Titans in the Region-8 standings. North Oconee is now 6-4 in the Region good for 2nd place behind Jefferson, and 15-7-1 overall. Stephens County is now tied for third in the Region at 5-5 and 19-6 overall.
The two teams will face off again on Wednesday at the Reservation. Wednesday's game will also be Toccoa Little League Day at the ballpark. WNEG will broadcast the game with airtime at 5:45 P.M. and first pitch at 5:55 P.M.