Indians to face Tough Wildcat bunch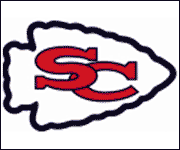 Stephens County will try to win its second straight game to start the 2017 football season.
The Indians will host the Rabun County Wildcats tonight at The Reservation in a non-region contest.
Last week, the Indians shut-out Franklin County, 28 to 0, in the 2017 season opener.
Meanwhile, Rabun County had over 500 total yards in a lop-sided 62 to 21 season-opening win over Mt. Pisgah Christian.
Last year in up in Tiger, Rabun County defeated the Indians, 24 to 10. The Wildcats went on to win Region 8-AA, and finished the season with an 11 & 1 record.
Kick-off from The Reservation tonight is set for 7:30 p.m.
Coverage on the 93.1 FM/AM 630 WNEG begins at 5:30 p.m.
with the Indian Tailgate Show, followed by Coach's Corner at 7 p.m. and live pre-game coverage starting at 7:15 p.m.
Indian football is also broadcast online at wnegradio.com.
In other area games tonight, Hart County host Westside, South Carolina, Banks County host Johnson of Gainesville, and Habersham Central host White County, while Franklin County has the week off.
Looking around Region 8-AAAA, Jefferson plays at Thomson, Madison County host Elbert County, Oconee County host Walnut Grove, and North Oconee host Morgan County.