Currahee Military Weekend Gets Better Every Year, Visitors Say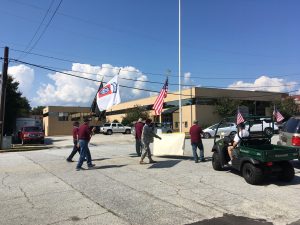 Local organizers of this year's Currahee Military Weekend say it was another successful event.
That's according to Chamber Executive Director Julie Paysen.
J"It was a huge success all the way around, from the feedback we're receiving," she said. "The restaurants were busy, the venues were busy and each of the events were well attended. And the weather was awesome. It was a great weekend and we certainly could not do it without our sponsors and volunteers."
The Currahee Military Weekend took place last Thursday through Sunday.
But over the years the weekend has expanded to honor all those who have served in the military and in all conflicts since then.
According to Paysen, she received a lot of positive feedback from visitors this year.
"As a matter of fact, we had quite a few who attend these types of events across the country and they were very complimentary of the events that we have here and how welcoming our community is. And they look forward to coming here every year," she said.
Paysen says organizers will be meeting in the coming days to discuss how to plan for next year's event.
"We are booking venues and talking about what we would tweak based on feedback from the crowds. We'll have a debriefing sometime in the next week and we'll be making notes and go forward," she said.
Now in its 17th year, the weekend initially honored the members of the 506th Paratroopers who trained on Currahee Mountain during World War II and who were featured in the HBO mini-series, Band of Brothers.