County seeks out funding to begin work on W. Currahee St.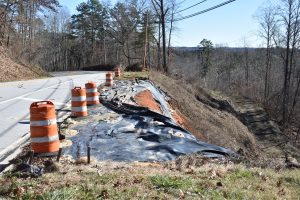 On Friday, the Stephens County Board of Commissioners held a special called meeting to award design build on W. Currahee Street slope stabilization project.
In December of 2017, the Stephens County Board of Commissioners made the decision to immediately close a portion of W. Currahee Street, formerly Dick's Hill Parkway, to all traffic near 4989 W. Currahee Street.
This portion of road was closed due to the safety of drivers being compromised.
Because of the complexity of the project, the county was unable to complete it in house; which created greater challenges and slowed the process down.
A geotechnical report from NOVA Engineering showed that there were three available options.
The county could choose to stabilize the slope, close the road or build an alternative road bypassing the slope.
Previously, the county had engaged with JM Smith Engineering to oversee the project.
During last week's meeting the commissioners voted and approved a motion awarding Hayword Baker Incorporated to conduct the repairs on W. Currahee Street; however, the award is dependent on and will only be distributed if the county receives funding from the state of Georgia.
According to Commissioner Debbie Whitlock this will be the fourth time the county has repaired W. Currahee Street.
The estimated cost is $2.1 million; however, if the slope collapses while crews from Hayword Baker Inc. are working, the cost could increase exponentially.
Whitlock expressed concern, asking that if the slope does fail how would the county absorb the cost.
Despite Whitlock's concerns the commission voted 4-0, with Commissioner Stanley London being absent.
WNEG News will provide continued coverage as Stephens County seeks out funding for the repairs and slope stabilization project.