Collins Makes Trip To Shirley's To Present Honor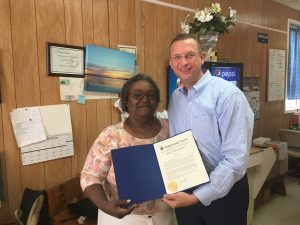 U.S. Congressman Doug Collins was in Toccoa on Thursday to present a special award recognition.
Collins was at Shirley's Sole Food on Currahee Street to honor owner Shirley Combs. Collins told WNEG News about the recognition." We entered Shirley in the Congressional Record which will always be there and people can look her up. It is a special way of recognizing people in our district and all over that make a difference in people's lives. It will be something permanent for her and we just want to recognize how much she has meant to the community."
In 2007, Combs started Shirley's Shelter inc., a non-profit 501 (c) ministry that has been housing the homeless and restoring lives.
Combs says it was a thrill to be visited by the Congressman " It was an honor. They called me Wednesday morning and told me they would be here Thursday at noon. It was an honor to have someone acknowledge not what I'm doing, but what God is doing through me. I'm willing to do what he is telling me to do."
Collins says it is important to honor special citizens like Combs . "When you have someone who makes a difference in the community that is the kind of thing we want to lift up and with Shirley's story-not only looking out for business but also looking out for other people-that is definitely a story to tell. When you have a lot of things going on in the world sometimes it's good to focus on what's positive."
Nearly 200 have been helped through donations to Shirley's Shelter. The mission of the shelter is to provide temporary housing for people who are free of alcohol and drugs. It is a place to live while they find employment and accumulate enough money to move out on their own.